Acuity offers a range of novel Enerquip Heat-Exchanger and Vapor Condensor products available in customized and off-the-shelf configurations. From the concept phase of a pharma or biopharma process to full-scale commercial production, Acuity commonly works with clients to specify heat transfer solutions that meet their safety, regulatory, cleanability, and space requirements.
Enerquip has been a trusted provider of USA-made sanitary and industrial heating and cooling solutions since 1985. Their robust quality program considers ASME BPE standards as well as cleanbility, fluid-contact-surface characteristics, and other valuable details important for bioprocessing. Their products are differentiated by standard design features such as Roller-Expanded Seamless Tubes, maximum 40Ra exterior surface finish, and pitching for cleanability or upgrades like their Double-Tube Sheet, Passivation services, or Insulation Jackets. Their engineers are highly experienced in specifying the optimal heat exchanger for a wide range of applications. With many custom and off-the-shelf options, we have never shown them a challenge they cannot meet.
Simple Sizing & Material Selection for Your Heat Exchanger
There are several variables to consider when sizing a heat exchanger. Also, as a customer's process design progresses from conceptual to detailed design, "real" application data points can become clearer. It is critical to verify all process parameters that will affect your heat exchanger performance prior to your purchase. The Acuity team coordinates closely with Enerquip and customers to make sure a heat exchanger is specified properly with extensive process considerations in mind.
Enerquip's proprietary sizing program demonstrates the impact of changes made to application parameters in real time. (i.e. Delta T, pressure, flow, cooling/heating time, etc.) Customer's can input, "what if" scenarios with their process data to understand the effect to heat exchanger performance. As changes are made to the parameters, the general arrangement drawing is instantly changed to consider the footprint and connection locations. Multiple performance variables can also be verified.
Many Heat-Transfer Equipment Solutions Available
Sanitary Heat Exchangers
Pharmaceutical Heat Exchangers
Shell-and-Tube Heat Exchangers
Custom Heat Exchangers
Biopharma Heat Exchangers
Vapor Condensors
CIP Heating Systems
Product Heating & Cooling Systems
WFI Heating & Cooling Systems
Heat Exchangers for Hygienic Use
No matter what phase of a project you are in, Acuity is here to help. We commonly work with customers to assist with process development, material selection, space optimization solutions, etc. and provide full quality, regulatory, and product validation support. Contact us today for a free application assessment.
Get a Custom Quote
Blogs & case studies related to heat transfer
Especially during a pandemic, few industries are more important to the nation than the pharmaceutical…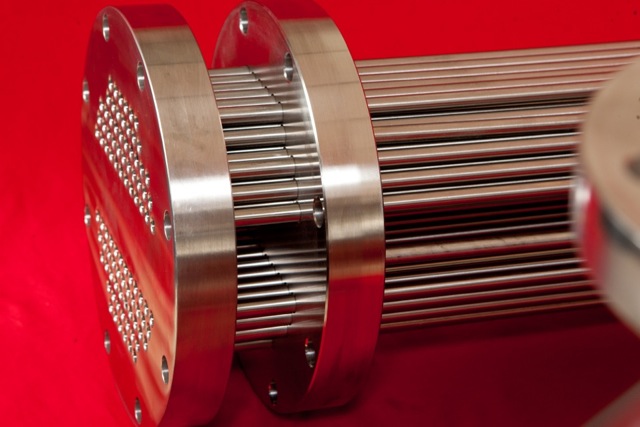 How do you locate, size, and expedite shipment of a sanitary heat exchanger replacement after…
Heat exchangers are everywhere. They are in cars (radiators), homes (refrigerators and air conditioners), factories,…
Need a Heat Exchanger for a BioProcess or Pharma Application? Contact Us for a Custom Quote: