Sight-Flow Indicators & Sight Glass Windows
Featured Supplier: Jacoby Tarbox
Acuity proudly features Jacoby Tarbox sight flow indicators and sight glass windows from Clark Reliance. For process viewing in biopharma, food / beverage, high-purity chemical and other hygienic applications, we commonly recommend the Jacoby Tarbox Hy-Sight Sight Flow Indicator and Uni-San Hygienic Sight Window.
Hy-Sight - Sight Flow Indicators
Hy-Sight is a revolutionary visual-flow indicator that has been perfected and refined over many years for maximum performance in hygienic applications such as bioprocessing, food / beverage processing, high-purity chemical manufacturing, cosmetics and other applications where performance and cleanability are paramount. With potentially thousands of connections in your facility that are not internally visible, the Hy-Sight can allow operators to observe critical details inside their process such as color changes, phase changes, cleanliness or to avoid pump-cavitation. The standard materials are annealed borosilicate glass and stainless steel, but alternatives such as Hastelloys, Monels, or other engineering metals are also available.
Traditional sight-flow indicators have up to 5x more intrusion in to the flow path vs. Hy-Sight which can lead to trapped particles and inferior cleaning cycles. Whereas the positive stop design, ACME threads, and locating o-ring of the Hy-Sight work together to minimize o-ring intrusion and maximize cleanability. Avoid unwanted hold-up material in your sight-flow indicator by specifying the Hy-Sight.
Hy-Sight Features and Benefits
316 Stainless Steel with other specialty metals available
Annealed borosilicate glass (the best material for process viewing)
Positive stop design, ACME threads, and locating o-ring work together for proper o-ring seat
Compatible with CIP and SIP
Cleanest glass to metal transition point vs. other sight flow indicators
FDA and USP Class VI compliant seals
Rated for full vacuum to 300psig
Uni-San Hygienic Sight Window (Sight Glass)
The Uni-San Sight Glass can be applied to any standard Tri-Clamp connection to create a viewing window in to your process. It has a long and successful track record across a broad range of process markets, and through continuous improvement efforts it is now better than ever! In particular, part number and traceability information, pressure rating, and temperature rating are now listed directly on the part. The standard finish has also been upgraded to an electropolish finish to meet bioprocess engineering standards.
Have you ever needed to shine a light in to a viewing port to get a clear view of your process? If so, did the reflection / glare or properties of the light lead to non-optimal or inconsistent results? Does this lighting process complicate your standard operating procedure? For anyone looking to light up a sight glass viewing window, we have the perfect product for you. Contact us today to learn more about the Uni-San Illuminator.
Uni-San Sight Glass Features and Benefits
Crevice-free glass to metal transition
One-piece design
Borosilicate glass and duplex stainless steel
10µin Ra(0.25 µ Ra) Mechanical Polish
Rated for full vacuum to 232 psig
Available with Hastelloy C Ring
Each part marked for traceability & quality control
Jacoby Tarbox branded sight-flow indicators and sight windows are products of  Clark Reliance. Originally founded nearly 140 years ago, Clark Reliance has a long and rich history of innovation, starting with their first breakthrough product, a low water alarm for boiler operators. Consistently on the forefront of technological progress, they were the first company in the world to offer remote water gauges. The company also received the ultimate validation for the product when called on by the Navy to supply them in World War II. Clark Reliance (aka Reliance Gauge Column) was even recognized by winning the prestigious Navy "E" Award.
Today, Clark Reliance provides customer solutions in over 120 countries in the power generation, refining, gas processing, chemical and other industries. Key acquisitions over the last few decades have solidified Clark-Reliance as an industry leader in the design, manufacture and distribution of level indication & control and filtration & separation products and services.
No matter what phase of a project you are in, Acuity is here to help! We commonly work with customers to assist with process development, material selection, space saving solutions, drawings, etc. and provide full quality, regulatory, and product-validation support. Contact us today for a free application assessment.
Get a Custom Quote
Ask A Question
Blogs & case studies related to heat transfer
Especially during a pandemic, few industries are more important to the nation than the pharmaceutical…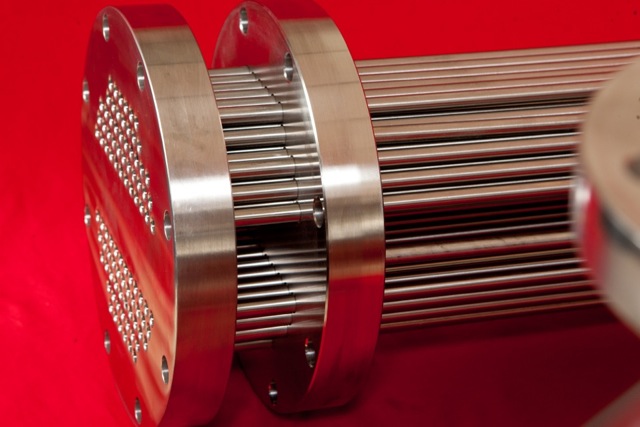 How do you locate, size, and expedite shipment of a sanitary heat exchanger replacement after…
Heat exchangers are everywhere. They are in cars (radiators), homes (refrigerators and air conditioners), factories,…
Need a Heat Exchanger for a BioProcess or Pharma Application? Contact Us for a Custom Quote: